Meet the Animals
Naughty Donkey Farm Sanctuary is also home to goats, alpacas and additional ducks and chickens—and, of course, the OG naughty donkey, but IRS rules prevent us from calling them sanctuary animals because we rescued them before we applied for nonprofit status. We may not be able to accept tax deductible donations for their care but we are committed to providing them with the same loving, forever homes as all of the animals who graze, peck, scratch, dust bathe and forage in our pastures.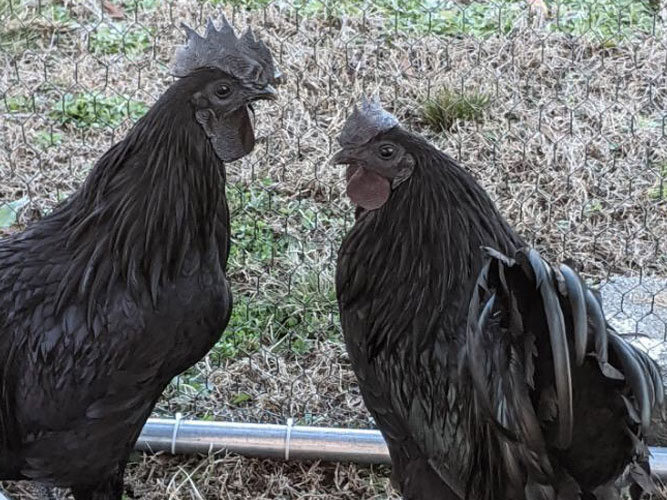 Johnny Cash and Clint Black
Animal Control picked up this pair of Ayam Cemani roosters after they were spotted wandering around Hillsboro, North Carolina. Although Johnny Cash and Clint Black are banded, meaning someone owned them, they spent a month in a small, windowless cinderblock room in the shelter with no one stepping forward to claim them. Our best guess: They were dumped for being roosters. The boys are safe now and spend their days on pasture, dust bathing, pecking and scratching and, of course, crowing.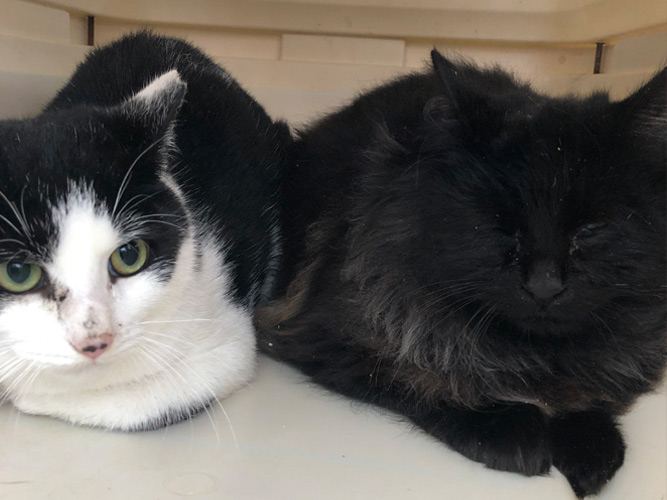 Barnes and Noble
Our local shelter has an awesome "working cats" program to find homes for feral cats not well-suited to life indoors. We received an emergency call for sanctuary for Barnes and Noble when the shelter experienced a ringworm outbreak. Barnes, the black and white male, and Noble, the longhaired black female, join Arthur and Veronica, our original working cats, in patrolling for rodents and begging for food.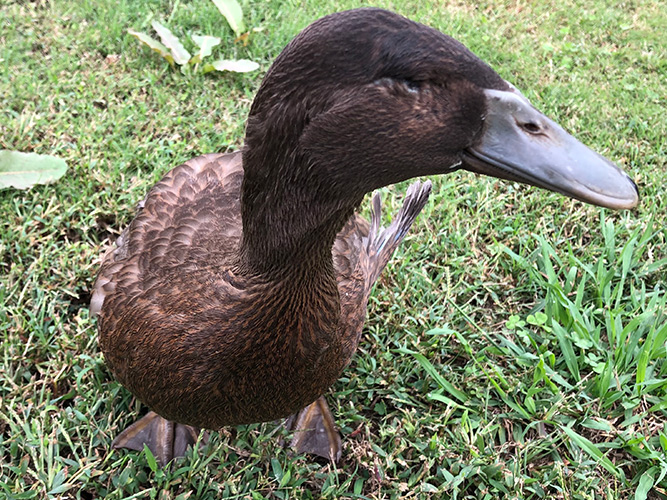 Seymour
This handsome Buff Orpington drake (male duck) was delivered from a hatchery to a big box store as a day-old duckling. A staff member noticed he had no eyes and took him to a local waterfowl rescue.
Seymour hasn't let a life without eyes slow him down. He experienced mobility challenges as a duckling but has grown into a strong and happy duck who loves to swim, play in mud puddles and nap in the sun. His best friend is a rooster named Penelope.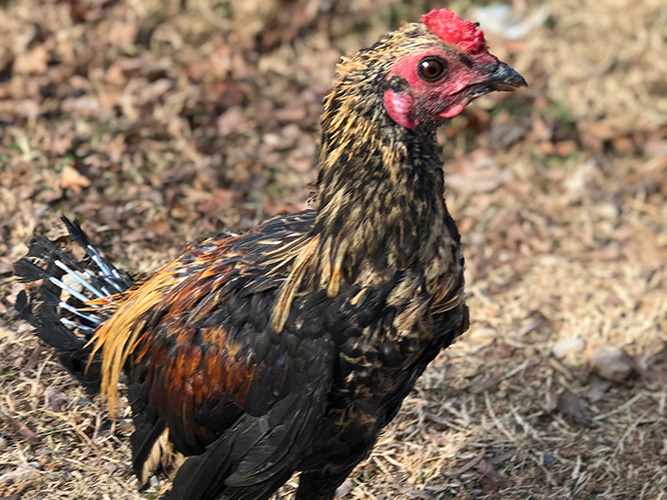 Penelope
When we picked up Seymour, we were asked if we could take a chick, too. The day-old chicken was sharing an incubator with Seymour and the odd couple had bonded. Of course, we said yes.
Penelope—who we recently discovered is a rooster, not a hen—has been Seymour's protector from day one. If we took him out of the brooder for a swim, Penelope chirped and jumped around in distress and wouldn't calm down until he was back in sight. We eventually allowed Penelope to play lifeguard beside the pool, holding him while Seymour swims, so everyone could relax. Like human siblings, Penelope and Seymour sometimes fight, but they have a strong bond and choose to stay close together in the pasture.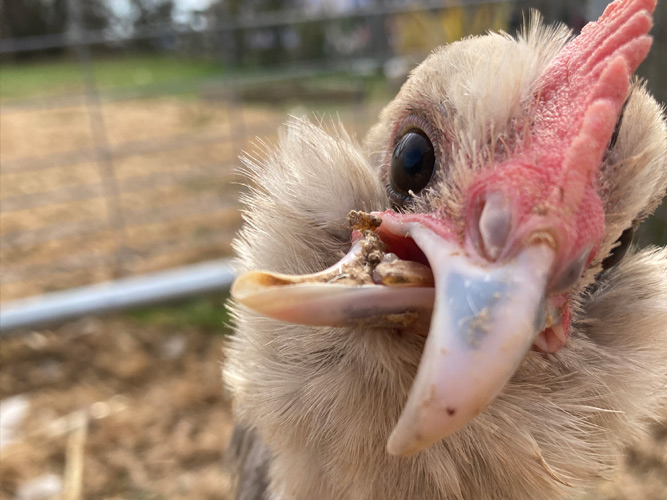 Estelle
Estelle may be the smallest chicken on the farm but she has the biggest personality. We call her the neighborhood busybody — she knows what everyone is doing and insists on being right beside us (even if it means breaking out of the pasture) to "help" with chores. She hops into the feed buckets at suppertime, rides in the gator, teases the cats, follows each goat into their stall at bedtime and waits at the back gate if we dare to go indoors.
Estelle was born with a cross beak, which means the top and bottom of her beak don't line up just right. She needs a few accommodations for food and water but, otherwise, she pecks, scratches and dustbathes just like the other chickens (though she'd prefer to be snuggled up on the couch, under a blanket, with her favorite humans).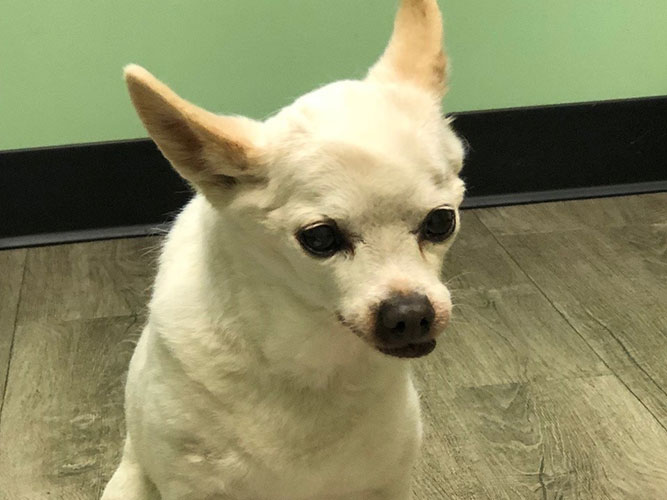 Teddy
This sweet old man was surrendered to the shelter for euthanasia. The shelter director suggested he be placed in rescue instead and called us and we rushed over and picked him up. Teddy is about 12 years old and has some health issues, including mild kidney disease. Our vet thinks that this little Chihuahua still has some spunk and can have great quality of life. He's on medications to clear a dental infection and ease his arthritis and a prescription diet to support his kidney health. When he's not wandering around the house testing out all of the dog beds, Teddy loves exploring the backyard.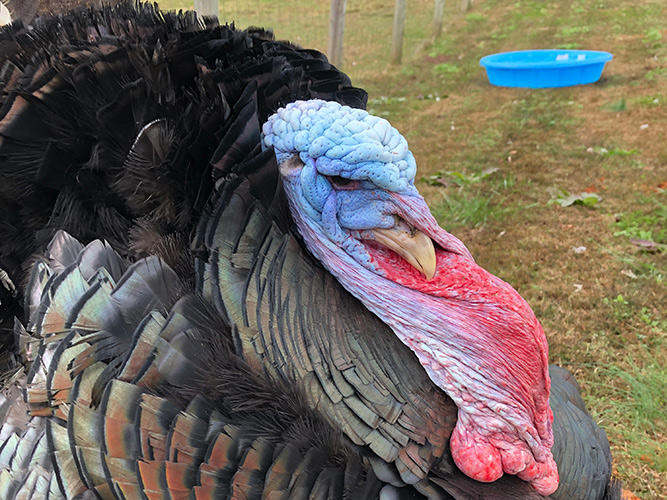 Benjamin Franklin
Ben might look like a turkey but he thinks he's a dog. He was raised for a museum education program but surrendered when he started fighting with his brother. At seven months old, Ben would be facing the end of his life in a commercial poultry facility. Here, Ben rules the pasture; he struts around among the ducks and chickens and follows us whenever he can. He loves to be petted and snuggled and makes the sweetest cooing noises when he's waiting for supper.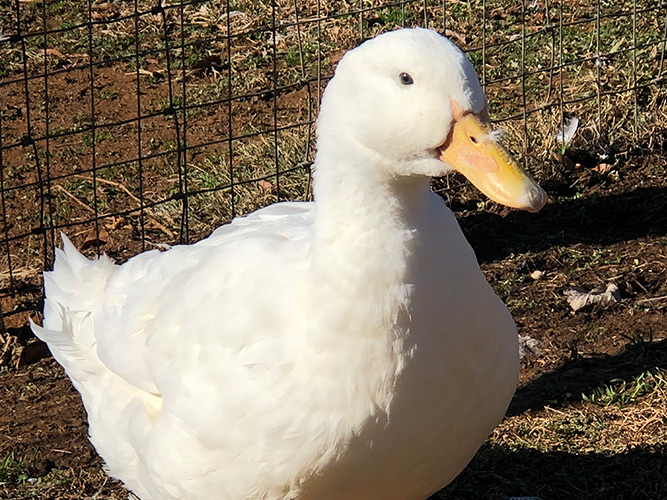 Pirate
Pirate is a one-eyed Pekin drake (male duck with a mysterious past. He's a little wary of humans but loves his friend and coop-mate, Captain Hook.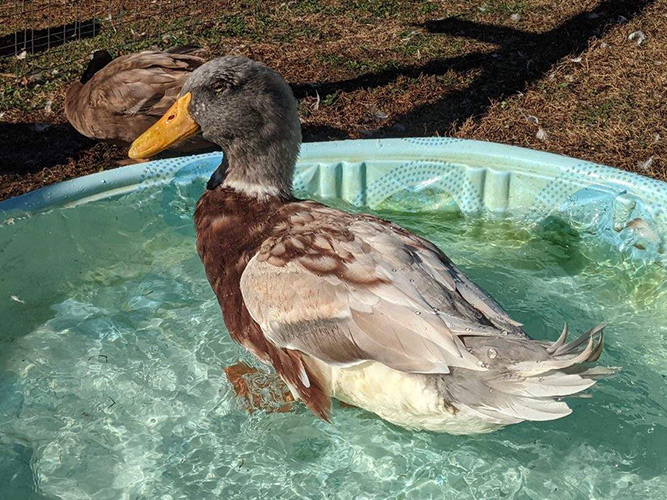 Captain Hook
Hook is a Saxony drake (male duck) with impaired vision but sees well enough to find the pool and food bowl. He's learning to trust humans and has a strong bond with his best friend and coop-mate, Pirate.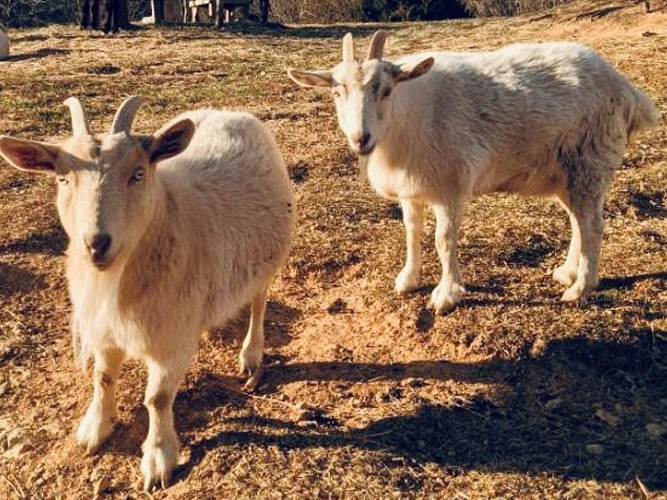 Fern + Cricket
Fern and Cricket were born in December 2018 and raised as beloved pets. When their family's circumstances changed, they called to see if the adorable pygmy goats could come to live at the sanctuary. Fern (the sister with the blue eyes) is a little more affectionate than her sister, Cricket, but both love following us around the pasture and come running when they hear the sound of grain in the bucket. They are still unsure about having a giant turkey for a "brother" but we feel certain they'll be besties with Ben Franklin in no time.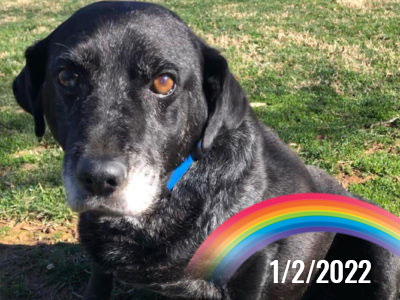 Lieutenant Dan
When the call came in that a three-legged senior lab was wandering the streets, animal control officers started knocking on doors in the neighborhood and the shelter posted his photo on social media. No one came to claim him. In the shelter, he shivered in the back of the kennel and was so stressed out that he wouldn't even get up to use the bathroom. We think Lt. Dan has had a rough life: He's got some tumors, rotten (and missing) teeth and he lost a leg but he also has a home with us and he's settling in well. He has a favorite bed in the mudroom, follows us around the yard and loves attention—and we're happy to provide all the love he wants.